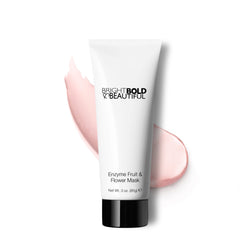 Enzyme Fruit & Flower Mask
Details:
Papaya-scented clay mask deep cleanses and exfoliates by drawing out toxins and impurities from skin's surface, for a sparkling clean complexion with a youthful freshness.
Best with our Enzyme Protection or Enzyme Night Cream.
Papaya-scented clay mask
Deep cleans and exfoliates the skin
Leaves a clean, fresh complexion
Formulated without parabens, gluten, phthalates, sulfates, GMOs, silicone, corn, alcohol, barley, oats, spelt, or rye
Not tested on animals, vegan, and Prop 65 compliant
Made in the USA
2.5 fluid ounces
What's Inside:

Kaolin acts like a magnet to help draw out oil, dirt and other harmful toxins from the skin. Mixed Fruit & Flower Acids & Papain from Sugar Cane, Citrus Fruits, Apples and Green Tea, Hibiscus and Papaya extracts forms a skincaring cocktail that helps exfoliate the skin for a smoother, brighter complexion. Glycerin helps provide hydrating and has a softening effect on the skin.
How To Use:
On a dry face, apply a thin layer, avoiding the immediate eye. Leave on for about 5 minutes or until the mask dries to a lighter color. Remove using moistened cotton pads. Rinse well with warm water and follow with moisturizer or night cream.