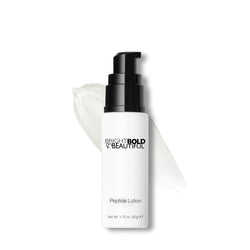 Details:
Daily moisturizer helps prevent collagen and elastin breakdown for firmer, more resilient skin. Improves tone and radiance.
Daily moisturizer
Anti-aging & hydrating
For mature skin
Formulated without parabens

Not tested on animals
Made in the USA
1.75 ounces
Daily Skincare Regimen:
Step 1: AM & PM - Micro-Derm Cleanser
Step 2: AM & PM - Peptide Serum

Step 3: AM & PM - Peptide Eye Cream
Step 4: AM - Peptide Lotion or Peptide Protection 
Step 5: PM - Peptide Cream

What's Inside:
Matrixyl Synthe'6 Mimetic Peptide works to improve underlying skin structure, while performing the function of a "chaperone" molecule. Similar to constructing a building where a project manager coordinates the various jobs, this molecule is involved in the orderly, rapid maturation of collagen. Complexion Perfection is a second generation AHA, liposome encapsulated tripeptide that rejuvenates the skin by biomimetic peeling to renew smoothness. Dermal Filler Cross-linked Hyaluronic Acid helps restore volume, smoothing out skin's microrelief. Soy Proteins are rich in essential amino acids and help increase metabolic activity for cell energy and rejuvenation. Macadamia Seed & Hazel Nut Oil & Squalane provide nourishment and moisture to the skin.
How To Use:
After cleansing, apply over entire face, avoiding the eye area.