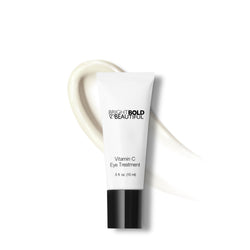 Details:
Uniquely textured, concentrated L-Ascorbic Acid cream helps brighten complexion overnight, as it firms and strengthens skin.
Nighttime moisturizer
Brightens & strengthens
For all skin types
Formulated without parabens or fragrance
Not tested on animals
Made in the USA
0.5 fluid ounces
Daily Skincare Regimen:
Step 1: AM & PM - Vitamin C Cleanser
Step 2: AM & PM - Vitamin C Toner
Step 3: AM & PM - Vitamin C Serum
Step 4: AM & PM - Vitamin C Eye Treatment
Step 5: AM & PM - Vitamin C Cream
Step 6: AM - Vitamin C Lotion or Vitamin C Protection
What's Inside:
Vitamin C helps prevent irritation while increasing absorption and stability. Brightens eye area and helps build collagen for firmer stronger eye tissue. Provides antioxidant protection. Firming Botanical Complex (Hydrocotyl & Coneflower Extracts) and Angelica Extract firm and tighten skin. Licorice & Grape Seed Extract naturally and gently fade darkness around the eye area. Vitamin E helps to provide antioxidant protection.
How To Use:
AM/PM. Using ring finger, gently apply around the eye area.