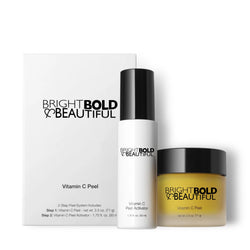 Details:
This Professional Peel System brightens dull skin, encourages collagen production and dramatically resurfaces skin complexion and texture, providing immediate results. Uniquely developed to diminish the irritation and dehydration commonly associated with peels. Gentle enough to use on most skin types. This system includes: Vibran-C Peel and Vibran-C Activator developed to work synergistically and effectively. Vibran-C Peel is a 2-in-1 product, hydrating skin while exfoliating to brighten a dull complexion. Vibran-C Activator creates a warming effect to enhance the performance and delivery of the active ingredient.
Professional peel system
Brightens dull skin
For all skin types
Formulated without parabens

Not tested on animals and vegan
Made in the USA
Peel: 2.5 ounces

Activator: 1.70 fluid ounces
What's Inside:
Vitamin C Peel: Vitamin C (Magnesium Ascorbyl phosphate) & Beta-Carotene are antioxidants that aid in the restoration of damaged tissue as they brighten the complexion. Sodium Bicarbonate gently exfoliates for a fresher, smoother complexion. Sunflower & Carrot Oils moisturize and nourish.
Vitamin C Activator: Polyquaternium-10 conditions skin. Lactic Acid gently exfoliates. Phospholipids replenish moisture levels in skin.

How To Use:
Step 1: Using circular motions, apply a thin layer of Vitamin C Peel onto moistened face, avoiding the eye area. Leave on for 2 minutes.
Step 2: Gently massage 2-3 drops of Vitamin C Peel Activator over Peel. A foaming and warming sensation will occur.