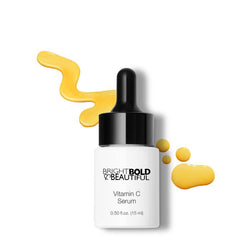 Details:
Ultra-hydrating, brightening serum refreshes, refines and restores radiance. Helps firm and tone skin with natural botanicals and potent antioxidants.
Refreshing serum
Brightens & hydrates
For all skin types
Formulated without parabens, alcohol, barley, corn, oats, rye, soy, spelt, or wheat
Not tested on animals
Made in the USA
0.5 fluid ounce
Daily Skincare Regimen:
Step 1: AM & PM - Vitamin C Cleanser
Step 2: AM & PM - Vitamin C Toner
Step 3: AM & PM - Vitamin C Serum
Step 4: AM & PM - Vitamin C Eye Treatment
Step 5: AM & PM - Vitamin C Cream
Step 6: AM - Vitamin C Lotion or Vitamin C Protection
What's Inside:
Vitamin C brightens skin, improves radiance, provides antioxidant protection and stimulates collagen production. Vitamin E enhances anti-oxidant protection. White Tea Extract soothes skin, helping to prevent irritation. Gingko Biloba Extract stimulates micro-circulation for improved skin health. Glycerin softens skin and helps prevent dehydration.
How To Use:
AM/PM. Massage a few drops over cleansed face and neck until absorbed. Follow with appropriate moisturizer or night cream.