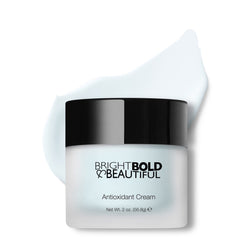 Details:
Hydrating night cream enriched with powerful antioxidants. Moisturizes and smoothes skin and helps protect against free radical damage.
Nighttime moisturizer
Hydrates & smoothes
For all skin types
Formulated without parabens
Not tested on animals
Made in the USA

2.0 ounces

Daily Skincare Regimen:
Step 1: AM & PM - Gel Cream Cleanser
Step 2: AM & PM - Toner with Alpha Hydroxy Acids
Step 3: AM - Daily Moisture Protection Lotion or Daily Moisture Protection
Step 4: PM - Antioxidant Night Cream
What's Inside:
Shea Butter & Jojoba Oil provide superior emolliency for intense hydration. Squalane & Glycerin hydrate and soften the skin. Avocado Oil helps soften skin and smooth lines and wrinkles. Vitamins A, C & E are antioxidant vitamins that help to protect cells from free radical damage.
How To Use:
PM. Apply nightly to cleansed face and neck, massaging gently using upward strokes.