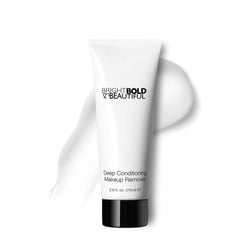 Deep Conditioning Makeup Remover
Details:
This oil-free makeup remover melts away all traces of makeup, including waterproof mascara, long wear foundation, and indelible lipstick. Creamy, emollient lotion conditions lashes, lids, and lips, as it gently emulsifies makeup and impurities, leaving skin clean, soft, and comfortable. Fragrance, sulfate, and surfactant-free formula is ideal for contact lens wearers, cleansing the eye area without irritation or residue.
Oil-free makeup remover
Removes waterproof mascara and long wear foundation
Leaves skin soft, conditioned, and comfortable
Formulated without parabens, gluten, fragrance, surfactant, oil, phthalates, sulfates, GMO's, alcohol, barley, corn, oats, rye, soy, spelt, or wheat
Not tested on animals, vegan, and Prop 65 compliant
Made in the USA
2.6 fluid ounces
What's Inside:
Dimethicone helps keep skin soft, comfortable and hydrated. Makeup-dissolving Alkane leaves skin clean and makeup-free without stripping.
How To Use:
Apply liberally to cotton pad, then cleanse one area at a time. Apply to eye area and hold for several seconds, then wipe with downward strokes. Repeat using fresh cotton pad if necessary. Use a new cotton pad for lipstick or foundation removal. Rinse with cool water.