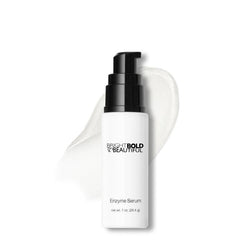 Details:
High potency serum. Helps accelerate cell turnover and speed up the production of fresh, younger cells. Actively hydrates and revives tired skin. Complexion regains its youthful radiance and resilience.
Exfoliating serum
Balances skin
For all skin types
Formulated without parabens, alcohol, barley, corn, oats, rye, soy, spelt, or wheat
Not tested on animals
Made in the USA

1.0 ounce

Daily Skincare Regimen:
Step 1: AM & PM - Papaya Enzyme Cleanser
Step 2: AM & PM - Papaya Enzyme Toner
Step 3: AM & PM - Enzyme Serum
Step 4: AM & PM - Enzyme Eye Cream
Step 5: AM - Enzyme Lotion or Enzyme Protection
Step 6: PM - Enzyme Night Cream
What's Inside:
Papaya Enzyme and Glycolic Acid are a power-packed combination that helps break down the bonds that hold cells together, so the actives effectively eliminate the old, surface dead cells that cause skin to look dull and lackluster. Effectively accelerates cell turnover and speeds up the production of fresh, younger cells so skin regains its vibrancy, radiance, and resilience. Collagen Amino Acids greatly enhance the penetration of moisture and deep condition skin.
Adenosine Triphosphate works similarly to the body's own ATP (the molecular "currency" of cellular activity) and has strong potential as a cell-communicating ingredient and inflammation modulator. Malic Acid Mild is an AHA that helps skin look younger & firmer. Slower, more even penetration ensures less potential for irritation. Biotin helps fortify skin for improved barrier function. Sodium Hyaluronate helps to hydrate and plump skin. Cucumber, Kiwi & Sage Extracts are vitamin and mineral-rich extracts that nourish, soothe, and moisturize.
How To Use:
AM/PM. After cleansing, saturate a cotton pad and stroke over face and neck.