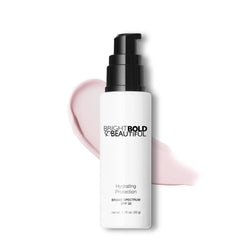 Details:
Intensely hydrating daily moisturizer with broad spectrum sun protection. Hydrates, nourishes, softens, soothes, and protects dry, dehydrated skin.
Daily moisturizer
Intense hydration
For dry skin types
Broad Spectrum SPF 30
Formulated without parabens

Not tested on animals
Made in the USA
1.75 ounces

Daily Skincare Regimen:
Step 1: AM & PM - Hydrating Cleanser
Step 2: AM & PM - Hydrating Toner
Step 3: AM & PM - Hydration X3 Serum Concentrate
Step 4: AM - Hydrating Lotion or Hydrating Protection
Step 5: PM - Hydrating Night Cream or Hydrating Cream Extreme
What's Inside:
Broad Spectrum SPF protects against damage from UVA and UVB exposure. Advanced Humectants (Squalane & Sodium Hyaluronate) offer deep hydration and softening to skin. Algae Extract leaves skin supple and firm, while enhancing antioxidant protection. Centella Asiatica & Echinacea Extracts provide added firming benefits. Cucumber Oil soothes, refreshes, softens, and helps heal skin. Shea Butter, Avocado, Hazelnut & Jojoba Oils are rich in vitamins and add natural emolliency and lubrication. Patented HYDRAPATCH™ TECHNOLOGY is a synergistic combination of natural moisturizing factors and skin protectants to help reduce dehydration and render skin soft, supple, and smooth with long-lasting benefits.
How To Use:
AM. After cleansing, apply over entire face, avoiding the eye area.