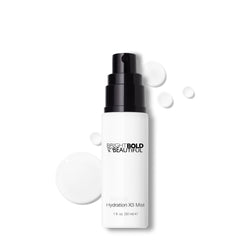 Details:
An epidermal pick-me-up, a quick spritz of this nurturing face mist is all you need to hydrate your skin and revitalize your spirits. It purifies and refreshes while providing lasting moisture and restoring suppleness.
Refreshes skin
Increases surface moisture
Helps counteract the effects of environmental pollutants
Adds a layer of hydration to lock in moisture
Formulated without gluten, soy, nuts, or dairy
Not tested on animals
1.0 ounce

 What's Inside:
Glycerin, a potent humectant, attracts and holds moisture to skin surface for enhanced hydration and softening effects on skin. Gallic Acid and Shea Butter work as powerful anti-free radical agents with elevated detoxifying potential against nicotine, chlorine and certain metals generated by industrial pollution, a newly discovered cause of skin aging. The detoxifying character of this fraction can prevent long-term damage and inflammation, reinvigorating the complexion. Hydrolyzed Hyaluronic Acid for improved penetration and deep nourishment. Its helps enhance skin elasticity and strengthen the barrier function of the skin, as it helps plump and adds suppleness.
How To Use:
Use after cleansing and moisturizing, and throughout the day, anytime skin needs an energizing pick-me-up.